PGC welcomes a new general manager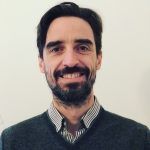 The PGC Board of Directors is pleased to announce that, after a period as interim, Mr. Renaud Sanscartier is the new general manager of PGC, in replacement of Ms. Katia Colton-Gagnon, who took up new challenges. Renaud has a background in both agriculture and economics, and has worked with numerous farm organizations as a consultant over the years.
The Board would also like to thank Katia for all the work accomplished for PGC throughout her mandate. Her organizational and communicational skills were greatly appreciated. All the best in your future projects!